Advisory Board
Mary Pat Alcus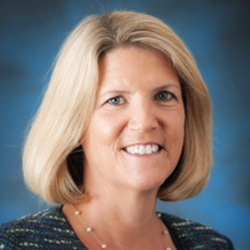 Mary Pat Alcus is an institutional investment advisor and a Chartered Financial Analyst. Over her 30-year investment career she has advised numerous foundations and endowments and corporate and public pensions in the areas of investment strategy, investment policy development, manager selection, and performance monitoring. For most of her professional career, she worked for Mercer Investment Consulting in Atlanta, New York, and Washington, DC, where she was a Principal and Senior Consultant. Mary Pat has served on numerous non-profit Boards including the The Greater Washington Community Foundation, where she served as the chair of the Investment Committee and Horizons Greater Washington, where she was Board President (2017-2019). She currently serves on the Board of Directors of the Montgomery College Foundation as Vice Chair and Norwood School, where she serves as Secretary. She is a graduate of Vanderbilt University and received her MBA from the Fuqua School of Business at Duke University.
---
Judy Bacon
250Judy Bacon lives in Washington, DC and has been involved in all phases of volunteering at Maret since 1999, when her daughter, Kimberly entered the first grade. Judy has been involved in all phases of volunteering at Maret: Class Representative, Lower School Vice President and MPA President (2009-2010). She was also involved with the Scholarship Auction, Bookstore, Library, Fete Volunteer, Diversity Chair and Chair of the Senor Endowment Gift Committee. Judy was on the Maret board the year she served as MPA President and then returned after her daughter graduated in 2011 where she served six years. She has been an Advisory Board Member with Horizons of Greater Washington since 2006. Her daughter Kimberly was also a volunteer for many years in the Saturday Horizon's program at Maret.
Judy was also active in the DC Chapter of Jack and Jill, the parent organizations at Phillips Academy and Stanford University. Judy and her husband served on the Stanford University Parents Advisory Board. Currently she is a member of Many Hands and serves on the Membership Committee.
She has a B.A. from the University of Houston and worked as a compensation specialist in the energy and financial services industries.
---
Maisie Branson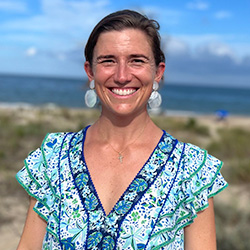 Originally from Connecticut, Maisie has been living in Washington, DC for about 15 years with her husband, Austin and three girls (Dorothy, 4th grade, Taylor, 2nd grade and Millie, age 3). She graduated from Trinity College in 2004 and got her Masters in Special Education from American University. She taught at St. Patrick's Episcopal Day School as a Reading Specialist for four years where she was introduced to Horizons and before that was at the Diener School and the Birch Wathen Lennox School (in NYC). Maisie is actively involved at the National Presbyterian School where two of her girls go to school and serves on the Altar Guild at St. David's Episcopal Church in Washington.
---
Manal Corwin
---
Yve Dinte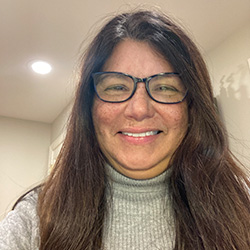 Yve Dinte has been actively involved with Horizons Greater Washington since 2004. Yve first became involved with Horizons as a volunteer, a role which she served in for six years prior to joining Horizons Board and the Development Committee from 2011 – 2017. She played an instrumental role in launching Horizons' Norwood site and its first summer program and served on the Horizons Norwood Council for seven years. Currently Yve serves as a member of Horizons Advisory Board.
---
Hollis Dittersdorf
Hollis Dittersdorf has been a program and operations manager and administrator for arts, education, and philanthropic programs for more than 30 years. Among other roles, Hollis has held positions as Deputy Director and Acting Assistant Director of the Art and Embassies Program of the US State Department, Curator of Collections in the Interior Design Division of the US State Department, Silent Auction Co-Chair for Fight for Children, and Director of Operations for Horizons Greater Washington. She served on the Horizons Parent Council at Maret School for two years and twice co-chaired Maret's annual auction. Her two children volunteered and worked for Horizons throughout their high school careers at the Maret School. Hollis holds a BS in Psychology from Georgetown University.
---
Andy Fairbanks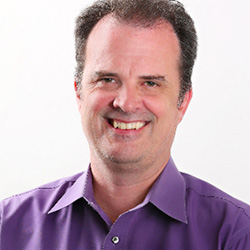 Andrew Fairbanks is a Managing Partner in IBM Consulting. He currently leads the delivery of a highly strategic, multi-hundred million dollar program for a global financial services company. Prior to assuming this role in late 2021, Andrew served as the Market Leader for the US Federal business. In this role, he led a team of more than 2,500 people delivering Consulting Services, System Development, and System Sustainment contracts for the Federal Government. Prior to assuming his current role, Mr. Fairbanks served as the Quality & Delivery Excellence Leader for IBM Global Business Services - North America. He oversaw the solutioning and delivery of IBM's portfolio of Digital, Cognitive Computing, Mobile, Enterprise Applications, Cloud, and Application Development programs across IBM's North America services business. He led a team of senior Delivery Partners, certified Program Managers, and Solution Architects to drive client satisfaction, benefits realization, and cost/schedule performance throughout the IBM portfolio of programs. Prior to assuming responsibility for North America Delivery, Andrew led the IBM Public Sector Delivery organization, managing a team of more than 3,000 people in the delivery of programs to IBM's Federal, State & Local, and Health Care clients. Andrew specializes in managing large, complex programs including his work as Senior Program Executive for the $453M eArmyU/GoArmyEd program, which won more than 15 Industry awards for innovation and delivery excellence. He is a recognized expert in the field of distance learning and use of technology to drive improved efficiency and effectiveness of Benefits Administration, Human Resources and Learning functions. Mr. Fairbanks was honored in 2014 as a Federal 100 recipient by Federal Computer Week Magazine, recognizing the top 100 professionals from government and industry for their achievements in leading transformation in Federal IT. In 2015, he received the AFFIRM award, recognizing the outstanding Industry Executive serving the Federal government. Mr. Fairbanks received his Bachelor's degree from Wesleyan University and his Master of Public Policy degree from Harvard University. He is also the co-author of The Early Admissions Game, published by the Harvard University Press in 2003.
---
JoAnne Ginsberg
JoAnne is experienced in the intersection of education and local government. A 40+ year resident of Washington, DC, she served as Director of Legislative Affairs for a DC Mayor, Appointed Member of the Board of Education, and Chief of Staff for a Council Member.
During that time, she advocated for education and the utilization of resources to help children across the economic spectrum. In the Mayor's office she helped guide the Education Reform Legislation through the Council, Congress and The Administration and helped shepherd the confirmation of the first Chancellor of the Public Schools of the District of Columbia under mayoral control. On the Board of Education, she focused on truancy and keeping children in school. During her time in the Council Member's office, she worked with teachers, principals and students in regular public and charter schools, as well as focusing on budget related issues.
JoAnne became involved with Horizons soon after it was instituted at Maret School, assisting with local government issues and serving on its first Board as it expanded from a single summer program in DC to include St. Patrick's, Norwood and additional feeder schools.
JoAnne graduated from Williams College in one of the first classes of coed students. She lives with her husband and has two children both alumni of Maret and four grandchildren.
---
Ken Giunta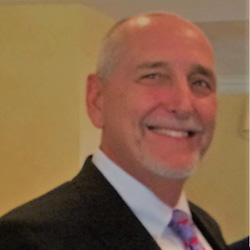 Ken Giunta is originally from a small town just north of Boston, Massachusetts. He moved to Greater Washington, D.C. after earning his B.A. from Tufts University and his Masters from the Fletcher School of Law and Diplomacy, where his studies focused on U.S. policy toward developing countries. He has spent the majority of his adult life working on issues related to diversity, inclusion and social justice. Prior to retiring, Ken worked for federal and state government in the areas of urban economic development and public diplomacy. Ken also worked for nearly a decade at an independent public policy research organization focused on U.S. policy toward developing countries and in leadership at a trade association considered the largest membership coalition of U.S. non-governmental organizations (NGOs) working in developing countries on poverty alleviation and post conflict reconstruction, relief and development. He has since served in senior management positions and in senior leadership on several boards and committees, predominantly in the higher education, public and charitable sectors. Most share as their core mission a dedication to equity and social justice and to advancing opportunities for disadvantaged youth. Ken also serves as a part-time advisor to a Maryland Delegate on public policy. He has been married for 35 years and has three children, ages 31, 28 and 21 and lives with their two dogs in North Potomac, Maryland.
---
Ron Gomes
---
Carla Herrera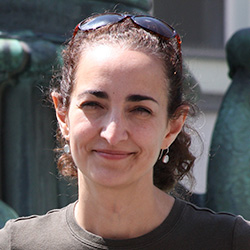 Dr. Carla Herrera is Principal Researcher with Herrera Consulting Group LLC. Over the past 25 years, she has led and contributed to numerous large-scale process and impact evaluations of mentoring and other out-of-school-time programs for youth. Her studies have typically sought to address not only whether these programs are effective, but also which program practices are linked with the strongest benefits.
---
Autumn Hunter
Autumn Hunter became involved with Horizons Advisory Board after volunteering with Horizons and realizing that her own experiences were similar to students in the program. Autumn currently serves as the Associate General Counsel and Managing Director, Public Policy and Political Law, at Bank of America. Based in Washington, D.C., Autumn advises on international, federal, state, and local public policy and government relations matters that interest and impact the Bank and broader financial services community, and provides guidance on political law matters such as PAC contributions, lobbying, and interactions with public officials.Prior to this role, Autumn lead Economic Sanctions Legal in the Global Financial Crimes Legal group since joining the Bank in 2014. In that capacity, she provided subject matter expertise on issues related to economic sanctions, anti-boycott compliance, anti-money laundering compliance, and outside directorships, throughout the Bank's global businesses.
Autumn serves as Co-Chair of the Legal Department's Diversity & Inclusion Business Council, which works to foster education, awareness, and conversations around diversity, equity, and inclusion both in Bank of America's Legal Department and within the legal profession. She also serves as a member and former Co-Chair of the Bank's Pro Bono Committee. Previously, Autumn was a relationship manager for the Bank's Corporate Counsel Women of Color relationship, a 2019 Leadership Council for Legal Diversity Fellow, and a 2019 recipient of the Bank's Global Diversity & Inclusion Award. Outside of the Bank, Autumn serves on the Boards of Directors for Bread for the City, Inc. and Every Mother Counts, and on the Advisory Board for Horizons of Greater Washington.
Prior to joining Bank of America, Autumn worked at Skadden, Arps, Slate, Meagher & Flom LLP in the Financial Institutions Regulation and Enforcement group in D.C., and, at the beginning of her career, in its New York Mergers & Acquisitions group. She received her juris doctorate from Howard University School of Law, and bachelors in Political Science and Spanish from Grand Valley State University, and resides in Maryland with her family.
---
Karen Kelliher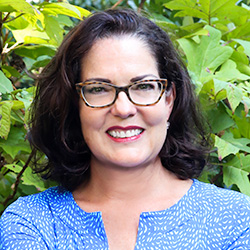 Karen Kelliher is currently an Owner and Designer at Foxhall House to Home a luxury home organizing and staging company. Her lifelong passion for interior decorating allowed her to redirect her career which had mostly rested in the congressional and executive branches of the U.S. government.
Karen has been committed to the Horizons Greater Washington (HGW) program for over a decade, serving in various volunteer positions with the St. Patrick's Episcopal Day School Parent Association, co-chairing two Spring Galas, serving as member of the Horizons Board and now as a member of the Advisory Council. As a first generation college graduate, Karen believes that the HGW mission embodies the gift of opportunities and personal fulfillment that comes only through access to education. Because HGW supports a K through 9th grade learner outside the traditional school year through experiential and enrichment opportunities student progress is compounded. Karen recognizes that the HGW program positively impacts the entire family, not just the student.
Karen's oldest son served as either a volunteer or paid Horizons Assistant Teacher (HAT) for four summers and her youngest also served as a summer volunteer. Karen and her husband have three children, two college graduates and a high school senior.
---
Joan Kerrigan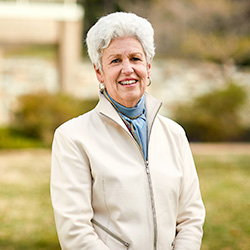 Joan Kerrigan has been a long-time volunteer teacher of English as a Second Language to immigrants, refugees, and other adults at Washington English Center. She most recently served on that organization's Board as Vice Chair. Before teaching at WEC, Ms. Kerrigan had been the Administrative Director of Horizons when it was a one-campus program at Maret. Her working life began at Chemical Bank in New York (now JPMorganChase). After ten years in the International and Corporate Divisions there and overseas, she enrolled in law school and subsequently joined the firm of Leftwich & Douglas in DC. Her interest in emerging economies drew her back to the international sphere, however, and she joined the Institute of International Finance in Washington where she focused on policy issues of multilateral development banks. Ms. Kerrigan graduated from Middlebury College, and completed an M.A. in Near Eastern Studies at Princeton, and a J.D. from the University of Connecticut.
---
John King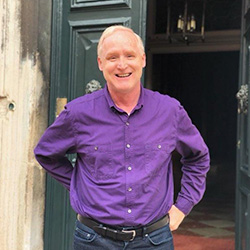 John King is President and founder of Chieftain Productions and an award-winning director and producer of documentary films and digital media projects. His numerous directing and producing credits include: "The Lost Battalion" for History Hit, "New Orleans Rising" and "Gearing Up: First Robotics" for PBS, "Countdown to Ground Zero" for The History Channel, and "Waiting For Liu" for Citizen Power Initiatives for China. John completed the program in Documentary Filmmaking at George Washington University.
John is also a student of mind-body practices for well-being and health. He's a certified SOMA Meditation Instructor with The Mindfulness Center in Bethesda, MD and a graduate of the Advanced Professional Training Program at The Center for Mind-Body Medicine in Washington, DC.
Earlier in his career, John led teams for democracy building and cross-cultural training programs at Meridian International Center in Washington, DC, and he worked as an organizational change and strategy consultant at Bain and Company in Boston. In addition to his service on the Advisory Council for Horizons Greater Washington, John currently serves as Chairman of the Advisory Council for the American Film Institute's Silver Theatre and Cultural Center. He's also a member of the board of directors for The Mindfulness Center and Citizen Power Initiatives for China. John graduated with honors from Dartmouth College and received an MBA and Public Management degree from Stanford University. He is married to Rachel King, a biotechnology executive, and they are the parents of two grown children.
---
Jane Korhonen
---
Jack Leavitt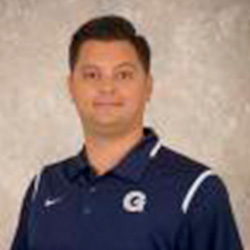 Jack Leavitt began his coaching career as an assistant for the women's swim program at New York University. During his two-year stint at NYU, Jack helped coordinate the team's recruiting efforts, designed training plans for the swimmers, arranged travel and implemented a strength and conditioning program. After his time at NYU, Jack worked with the Harvard University men's program, served as the assistant coach at the United States Military Academy and served three years as the head coach at the California Institute of Technology.
Currently, Jack serves as the head coach for the men's and women's swimming and diving programs at Georgetown University. Under his leadership, Jack has led the Hoyas to immense success in the pool and has won accolades including the BIG EAST Male Swimming & Diving Coaching Staff of the Year and Georgetown Athletics' Outstanding Coaching Achievement Award.
Jack graduated from Seton Hall in 2006 with a BA in Communications. A native of the Boston area, Jack currently lives in DC with his wife and son.
---
Jennifer Lowndes
---
Isabelle Mensah
Isabelle Mensah grew up in Tampa, Florida where she received her undergraduate degree from the University of South Florida in elementary education. She began her teaching career in 2002 as a 6th grade teacher in Prince George's County Public Schools. While teaching, Isabelle earned a Masters degree from The George Washington University in educational leadership and administration.
In 2017, Isabelle began her leadership journey as the Assistant Principal at Rock Creek Forest Elementary School, where the Horizons Greater Washington (HGW) program has fulfilled the mission to provide a high-quality summer enrichment program to address the opportunity gap for underserved children.
In addition to serving as a school administrator, she serves on the National Council for Education and Human Development at The George Washington University. The council works jointly with the dean, faculty, and students to further the mission of the university through student outreach and program/policy review.
The commitment of the families and the spirit of the students at Rock Creek Forest is why she loves her work. Isabelle is proud to serve as the Assistant Principal where she hopes to continue to make a positive impact on students' academic achievements and attain a life-long love for learning.
---
Nicole Solomon Mitchell
Nicole Solomon Mitchell is an accomplished Communications & Public Affairs professional who today focuses on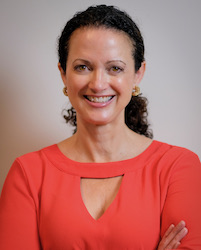 work to help improve academic outcomes and close achievement gaps for underserved students, particularly African American males. Nicole spent fifteen years working for General Motors, Chrysler Corporation, and Ford Motor Company in various positions. Her last assignment was with Ford as Director, Global Public Policy Communications. Since then, she has devoted time to raising a family and volunteer service, primarily in schools.
Since 2017, Nicole has served as the Founding Board Chair of Statesman College Preparatory Academy for Boys Public Charter School. The school is located in Ward 8 and serves grades fourth through eighth. Since 2015, Nicole has been on the Board of Trustees for the Bishop Walker School for Boys, also located in Ward 8, where she serves on Governance, Nominating, and Head of School Support committees.
She served for six years on the Board of Trustees for Norwood School in Bethesda, Maryland, as Vice Chair, Secretary, Chair of Trustees, Chair of Planning and Marketing, Chair of Diversity and Inclusion, and ran communications for a Head of School search. She also was actively involved in diversity, equity, and inclusion work at St. Andrew's Episcopal School and Sidwell Friends School.
Nicole earned a Bachelor of Arts in Communications from Wayne State University. She and her husband, David, are co-founders of the non-profit Patients for Affordable Drugs and have four adult children. Her family has supported the Horizons program since 2004.
Mary Morgan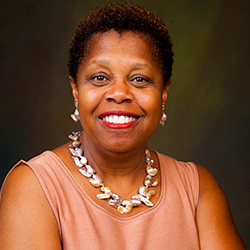 Mary Morgan is President of Morgan Group Ventures, Inc. She has over 25 years' experience supporting airport infrastructure and traveler needs. This expertise includes retail, food and beverage and news and gift locations. Ms. Morgan entered the airport arena initially as a consultant to the Metropolitan Washington Airport Authority which sparked an interest in airport concessions. Her first inline retail location (Pen & Prose), continues to operate in airports to this day.
Following five years of retail operations, Ms. Morgan entered a partnership with HMSHost Corporation where she has been able to jointly bid, win and operate food and beverage and news and gift locations. Today, Ms. Morgan operates independently and in partnership with the HMSHost Corporation, multiple locations in Ronald Reagan Washington National, Dulles International and Baltimore/Washington International Thurgood Marshall Airports. Ms. Morgan has also operated concessions in Philadelphia International Airport.
Prior to founding Morgan Group Ventures, Ms. Morgan worked in Fortune 100 companies providing financial services, strategic planning, process redesign and information technology services domestically and internationally.
Ms. Morgan served for many years as a Malcolm Baldrige National Quality Award examiner and advisor to the American Society for Quality. She is currently a member of the Advisory Committee to the Board of Horizons Greater Washington and is the Secretary of the Board of the AID Association for the Blind of the District of Columbia. Ms. Morgan serves on the Airport Minority Advisory Council's Governance Committee and is a member of the University of Pennsylvania's James Brister Society.
Ms. Morgan is a CPA. She received her BS in Accounting from Virginia Commonwealth University and her MBA in Finance and Marketing from the University of Pennsylvania's Wharton School. She resides in Washington, DC with her husband Joseph.
---
Nalini Rogers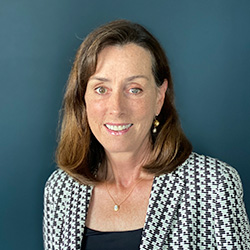 Nalini Rogers is a former Director of the On Board program at Compass and was a senior analyst at the Federal Reserve Board. Nalini has been a board member or Chair of education and nonprofit organizations in Washington, DC for over 25 years. She received her MBA from the University of Virginia's Darden School of Business and her BA from Dickinson College.
---
Ellen Safir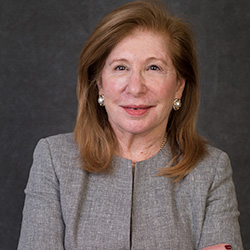 Ellen B. Safir, CFA, is the Chief Executive Officer of New Century Advisors, LLC an institutional fixed income investment advisory firm located in Chevy Chase, Maryland which she founded in 2002.
Prior to founding NCA, she served as Managing Director at the Howard Hughes Medical Institute, in Chevy Chase, Maryland. In this role, she was responsible for the Institute's $3 billion fixed income program and the $1.5 billion active currency management program. Prior to HHMI, Ms. Safir was Assistant Treasurer of the American Red Cross, with responsibility for the investment of corporate reserves and oversight of the investment portfolio of the Red Cross Retirement System and Endowment Fund. She began her career as a financial analyst at the Federal Reserve Board of Governors.
Ms. Safir received a B.A. from Bennington College and an M.B.A. from George Washington University School of Business and Public Management. Ms. Safir holds the Chartered Financial Analyst designation. She is on the Board of Trustees of Bennington College, and is Chair of its Investment Committee. She serves as Vice-Chair of the Investment Committee of the United States Holocaust Memorial Museum. She chairs the Advisory Council of Horizons Greater Washington, where she also served on its Board of Directors. She served on the Board of Directors of AARP Mutual Funds. She is a former President of the CFA Society of Washington, DC, and is a past President of the Washington Association of Money Managers.
Ellen and her husband Peter live in Washington,DC.
---
Courtney Weir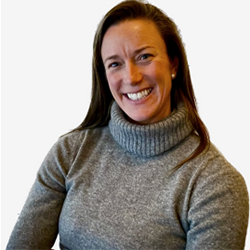 Courtney is a business consultant for women-founded entrepreneurial companies, focusing primarily on client engagement.
She started her career in New York City as a wealth manager in leading financial services firms. Courtney spent 8 years in Washington, DC working as a teacher at St. Patrick's Episcopal Day School and serving as a Board Member at Horizons Greater Washington. She continues to substitute teach at Maple Street School in Vermont where she now resides. She remains active in organizations focused on education, youth mental health and wellness.
She graduated from Trinity College in 2004 with a BA in Art History.